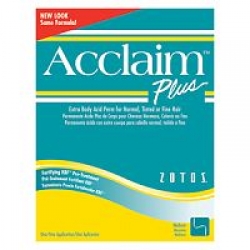 Item No: 2445
Acclaim Plus Perm-ExtraBody (Green/Yellow) #966253
For normal/resistant, fine/limp hair.
---
12 or more $3.95
---
Out of Stock
---
For normal/resistant, fine/limp, tinted and highlighted (40% or
less) hair.
Acclaim Plus Extra-Body Acid-Balanced formula is ideal for
creating longer-lasting, resilient curls with moer body, elasticity
and shine on normal, tinted and lightly highlighted hair. It gives
that extra body & bounce with the ease of natural processing,
while strengthening & conditioning. Acclaim Plus and patented
KBF (Keratin Building Factor) Flow Lotion represent a major
advance in perming. KBF bonds with porous areas to
strengthen and condition the hair. It restructures and restores
up to 90% of hair's original strength and resiliency.
Not for retail sale. This product is formulated for
professional use by licensed cosmetologists only, and carries
no warranty, expressed or implied, if used by others.
**Available Options**
---
For normal/resistant, fine/limp hair.

$4.50

12 or more $3.95

#2445

---