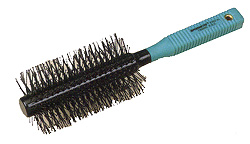 Item No: 3199
Spornette D. Stran. Nyl. Tip-962XL
Large diameter double stranded ball tip nylon.
---
---
In Stock
---
Double Stranded Nylon Tipped Rounders3 top selling rounders featuring Double Stranded permanent ball-tipped, non-snarl, tangle-free bristles. All 3 styles arevery gentle, yet penetrate with ease. Ideal for all hairtextures.
The XL Rounder features two-tipped nylon bristles in each tuft. The 2 inch diameter barrel on this brush makes it ideal for adding volume to longer hair. This brush has relatively long bristles compared to the wood core of the brush, so the bristles tend to be very flexible and have a lot of give. Care must be taken during the blow dry and style to ensure the hair doesn't become entangled due to the brush extreme flexibility.
Features:
2 inch barrel
Two-tipped nylon bristles and extreme flexibility
Best when used on mid-length hairstyles