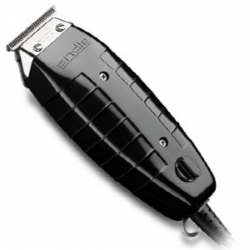 Item No: 6622
Andis GTX T-Outliner #04775 (3 prong & Deep-Tooth Blade)
Equipped with GTX T-Outliner blade. Close-cutting trimmer.
---
---
In Stock
---
Professional magnetic motor trimmer with close-cutting T-Outliner blade.
Fine-cutting teeth for extremely close-cutting.
High-quality, carbon-steel blades specially hardened for long cutting life.
Ideal for dry shaving and all-around outlining and fading.
Heavy-duty 8-foot cord with hanger loop.
Contoured to fit your hand comfortably.
Magnetic motor trimmer: the professional standard for all-around outlining, dry shaving and fading.
Close-cutting, carbon-steel T-blade for detailing.
Powerful, high-speed motor runs cool and quiet.